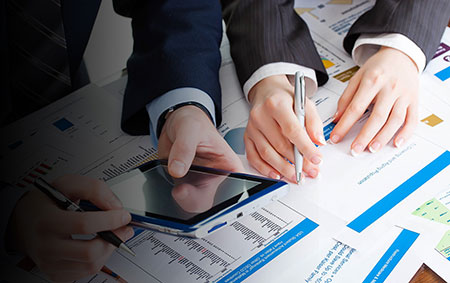 Retaining CFO and Accounting services to dedicated firms is a trend becoming increasingly popular among businesses. Usually because these CFO firms help businesses look at the bigger picture, their only skill isn't financial recording and management. A CFO ensures that the system and processes being practiced in your organization are up to date and are able to produce efficient financial data; so consequently, the owner can make better decisions.
A CFO services goals and objectives are parallel to the business's goals, ensuring proper growth and expansion while keeping the daily cash flow in order.
Finding the right CFO Service has gradually become difficult, primarily because there are so many of them. You need to be sure that the CFO Service you are going for is highly relevant and effective for your business.
Our focus is only on Small to Mid-Sized Privately Held Entities (SME's). Hence, we bring to your Organization the following quality services:
Financial Statements and Operational Accounting Services
Business owners, CEO's, and managers require accurate and timely financial statements and cash flow Metrics in order to understand their company's financial performance and liquidity positions. We provide assistance in all aspects of the finance function from accounting transaction processing, process improvements, financial reporting preparation, and Executive management reporting. In addition, we assist organizations that have a "peaking" issue due to a company's strategic initiatives or special projects.
External Audit Preparation
We assist Clients in preparing for and facilitating the external audit process. Our teams are armed with practical audit engagement experience enabling them to deliver high quality audit deliverables while navigating efficiently through the challenges of an audit. Proper preparations ensure that a company's accounting staff is not bogged down by the rigors of audit inquiries and minimize the disruption to the 'day to day' accounting function.
On-Going Accounting Services
Performance of all Accounting Functions including monthly write-ups and Bank Reconciliations using our Proprietary Remote Assistance Methodologies.
Reporting and oversight of month-end closings
Financial Statements and Cash Flow Projection Reports
Budgeting and Forecasting
Key Performance Indicators (Ratio Analyses and Period to Period Comparison reports)
Account reconciliations (cash, sub-ledger)
Intercompany accounting and reconciliations
Accruals and reserves
Fixed Asset Tracking
U.S. and Global Tax Compliance
We also assist:
Foreign companies doing business in the U.S. that don't have an accounting department
U.S. companies that need help with accounting services related to their foreign operations